American Girl Dolls and storybooks play important roles in sharing a glimpse of American culture and history. Young children spend time with dolls and listen to stories of real-world characters, keeping these in mind for a long time and gaining inspiration. In this life of technology, parents don't have much time for children; they can't completely ignore children.
As they have little time to spend with children, they may arrange birthday parties, picnic parties, trips to shopping malls, shopping, and play areas as quality time with children. American Girl Stores has brought all these facilities under one roof and given the opportunity to make childhood memories filled with joy.
Here is the list of American Girl Doll Stores :
Sr. No
American Girl Store Name
Address
Store Hours
1

American Girl Charlotte, NC Store

SouthPark Mall

4400 Sharon Rd, Charlotte, NC 28211

10:00 a.m. to 8:00 p.m

2

American Girl Chicago

Water Tower Place

835 Michigan Ave, Chicago, IL 60611

11:00 a.m. to 6:00 p.m

3

American Girl Columbus

Easton Town Center

4040 The Strand E, Columbus, OH 43219

10:00 a.m. to 7:00 p.m

4

American Girl Dallas

Dallas Galleria

13464 Dallas Pkwy, Dallas, TX 75240

10:00 a.m. to 7:00 p.m

5

American Girl Los Angeles

Century City Westfield

10250 Santa Monica Blvd, Los Angeles, CA 90067

10:00 a.m. to 9:00 p.m.

6

American Girl Nashville

CoolSprings Galleria

1800 Galleria Blvd #5030, Franklin, TN 37067

10:00 a.m. to 7:00 p.m

7

American Girl Place New York City

75 Rockefeller Plaza, New York, NY 10019

11:00 a.m. to 6:00 p.m

8

American Girl Orlando

The Florida Mall

8001 S Orange Blossom Trail, Orlando, FL 32809

10:00 a.m. to 7:00 p.m

9

American Girl Washington, D.C.

Tyson's Corner Center

8090 Tysons Corner Center, McLean, VA 22102

10:00 a.m. to 7:00 p.m

10

American Girl Miami

8888 SW 136th St #395a, Miami, FL 33176

10:00 a.m. to 8:00 p.m

11

American Girl Houston

303 Memorial City Mall #580, Houston, TX 77024

10:00 a.m. to 8:00 p.m

13

American Girl San Francisco

660 Stanford Shopping Center, Palo Alto, CA 94304

14

American Girl North York Ontario

3401 Dufferin St, North York, ON M6A 2T9, Canada

15

American Girl Ottawa, Ontario

47 Rideau St, Ottawa, ON K1N 5W8, Canada

16

American Girl Vancouver

2505 Granville St, Vancouver, BC V6H 3G7, Canada

17

American Girl Calgary, Alberta

6455 Macleod Trail, Calgary, AB T2H 0K8, Canada

18

American Girl Edmonton, Alberta

8882 170 St NW, Edmonton, AB T5T 4M2, Canada
What is Special In American Girl Doll Store
AG stores are not the only places to sell dolls, their well-decorated displays of dolls and extensive collections of outfits, accessories, and items create a world that immerses visitors in the doll lifestyle. Kids enjoy spending time in these stores, exploring more about dolls, even if they cannot make purchases due to budget constraints.
Here are some unique features that set these stores apart from others:
Doll Salon 
One of the most unique features of the American Girl Store is the availability of salons. Professionals offer services like hair styling, ear piercing, cleaning, and nail painting, whether you're purchasing a new doll for your child or bringing in an old one. This experience teaches children how to care for their doll's appearance, and AG stores even provide spa services for dolls. The doll salon services are designed to enhance the overall experience of AG's brand products.
Doll Hospital
Doll hospitals in some stores provide minor repairs and maintenance for dolls that are broken or torn. Doll doctors will check and repair the dolls to ensure that kids can continue their adventures with their beloved companions. Customers can send their dolls for repair without incurring any shipping costs.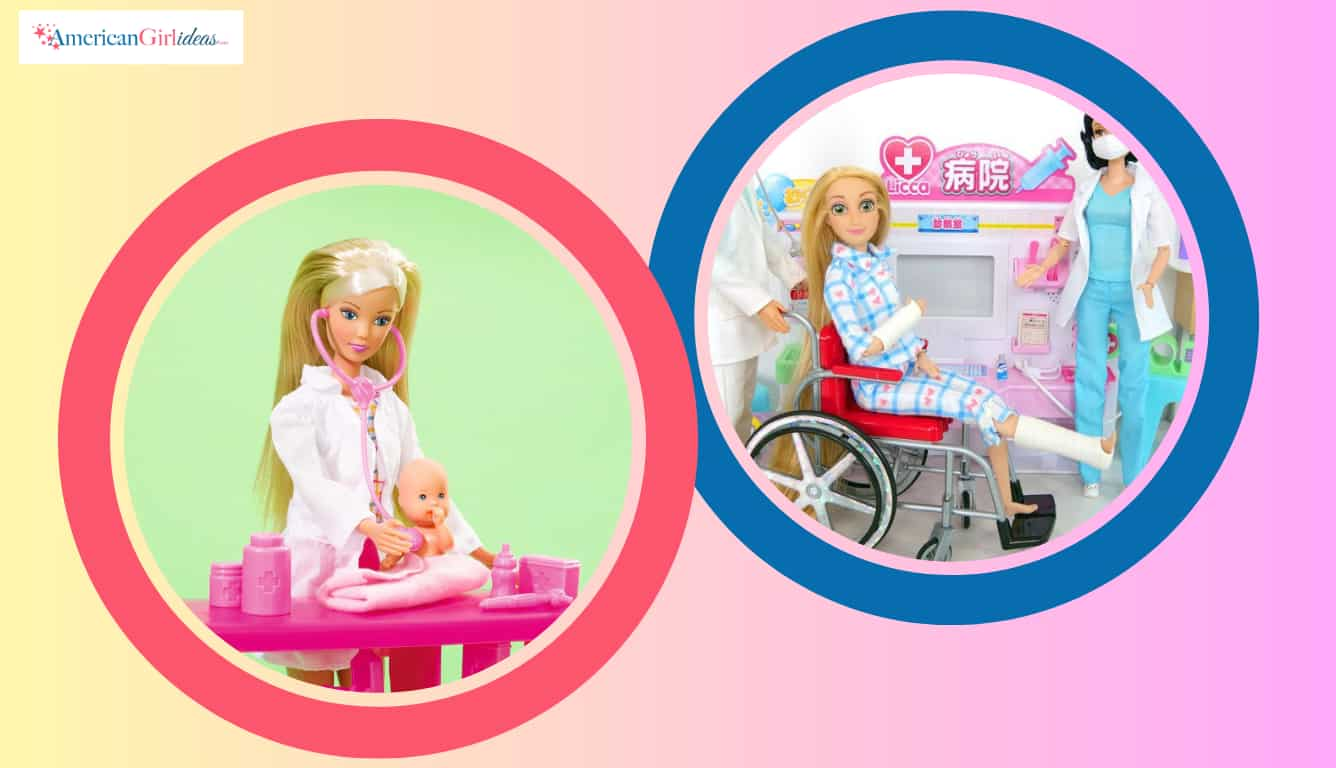 Dining with Doll
The dining facility at these stores adds a unique element to the visit. Most of the stores have either a café or restaurant, and they offer fixed-price, multi-course meals during set seating times. The casual café provides separate menus with flexible dining times throughout the day, appealing to both kids and adults. Not only do kids get their own seats at the table, but the dolls also have a place, complete with cups and saucers. If your child doesn't have a doll, feel free to borrow one to make your child's experience even more enjoyable."
Personal Shopper to Assist 
Personal shoppers in doll stores assist visitors in having a comfortable shopping experience and provide items based on their requests. Customers are free to examine and open any item. These employees do not work on commission; instead, they are there to help visitors have the best shopping experience in the store. They are knowledgeable about in-stock and out-of-stock items, so feel free to ask them any questions about the store, and they will gladly guide you with a smile.
In-store Parties Permission
AG stores offer in-store parties to celebrate when you visit the store with your doll. Planning a birthday party for a child or doll at an AG store is an excellent idea. The store's team knows how to make these events special, which is why they offer decorated cakes, ice cream, meals, crafts, and treat bags to make the occasion memorable. You can choose to celebrate your parties in a private dining room or in an open space within the store; this service is available for a very reasonable fee with prior booking.
Special Events at AG Stores
AG Stores are filled with fun spaces for children and they host various events to entertain them. They arrange different activities such as sports, games, zoo visits, dance and music parties to keep children engaged. Special events like the premiere of 'The Girl of the Year' movie are celebrated in the store, so it's advisable to get the book in advance. Please note that all of these events require prior booking and payment; however, drop-in craft events are free for everyone.
At-home celebration kit
American Girl Stores offer at-home celebration kits that include cake, digital invitations, themed treat bags, crafts, doll crowns, and cups with saucers for each guest, allowing you to celebrate events at home.
Limited and Exclusive Presents
The AG Store organizes lunch parties during the first three to four days of the launch or relaunch of the Girl of the Year. These exclusive events feature presents and parties that include doll accessories to promote the introduction of new characters.
Availability of Bookstore
Inspiring books with stories of characters attract children and encourage them to learn more about their favorite characters. The bookstore offers a series of books and activity books related to each character. Many parents purchase these storybooks for girls to help them navigate the challenges of starting middle school, dealing with friendship troubles, managing finances, understanding changing bodies, and handling emotions during puberty.
Signature Studio and Logo Shop
The AG Store provides the opportunity to design and print customized doll-size outfits and girls' shirts using a store tablet computer. Since 2020, in some stores, logo shops are also available, offering doll- and children-sized souvenir shirts, mystery packs, notebooks, beauty items, and collaboration items. All of these items are printed with the original logo.
Kids are Welcome to Bring Dolls and Take
Pictures 
Children are welcome to bring their dolls when visiting the store. You can purchase handbags, school supplies, dresses, jackets, shoes, hats, sports equipment, furniture, and more related to children's dolls. Visitors are also allowed to take pictures in various areas of the store. This is done to create memorable experiences for children, and these pictures can be used to frame their best memories of the place.
Permission  to Touch Store Display
It's not easy to prevent children from touching items in the store, and AG Stores are aware of this. That's why they display some merchandise that is particularly attractive to kids, allowing them to touch and play with their favorite characters. Children often enjoy playing with accessories such as doll furniture and cooking items, and they are free to do so. Inside the store, moms don't need to repeatedly say, 'Please, don't touch this.
Conclusion:
Visiting parks and zoos always appeals to children, but a visit to the American Girl Store offers a unique opportunity for kids to have an enjoyable and memorable experience that they won't forget. Spending quality time with your children in a place where they can freely interact with their favorite dolls and accessories strengthens the bond between parents and kids. Don't forget to capture photos of your children during the visit; these pictures can be used as wallpapers in their rooms to help them remember the special day. The facilities offered at these stores are truly unique, setting them apart from others and ensuring that children have a happy and memorable holiday experience. If you've ever visited an American Girl dolls Names store with your child or during your own childhood, please feel free to share its name.